ADDITIONAL HOURS £35 per hour
(Additional prices can be found on our rate card)
STUDIO SPECIFICATIONS
1,600 sq ft of studio space.

Infinity Cove Wall 8.5m long x 5.5m wide x 4m high.
3 phase power with 16 Amp and 32 Amp outlets.
Drive- in Access via 2.6m wide x 4m high roller shutter.
Concrete Flooring Throughout.
On-Street Parking.
2.72m backdrop bay.
Stylist kit including rails, hangers and clothes steamer.

Hair and Make-up station with 2 seating positions.
Changing Room and Stylist Prep area.
Kitchenette with built-in workstations.
Complimentary hot and cold drinks.
Comfortable client seating area.
Wifi.
LIGHTING HIRE
At our studio, we have an extensive inventory of top-quality photographic lighting equipment, including Profoto, Broncolor, and Bowens gear, readily available for your creative needs. Plus, should you require any additional lighting or equipment, Glasgow's leading rental companies are conveniently situated nearby, ensuring you have everything you need for your projects.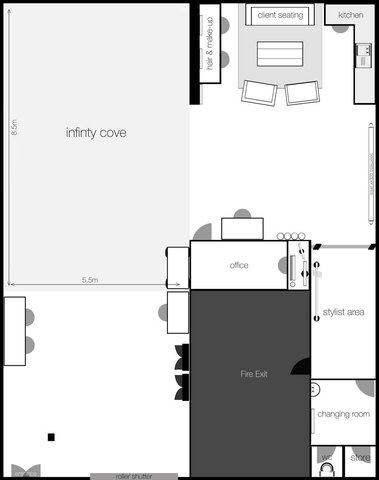 Conveniently situated in Glasgow's Kinning Park area, Cove One Studios offers easy accessibility by car via the M8, or by utilizing the nearby public transport links along Paisley Road West. Additionally, it's just a short walk from Shields Road and Kinning Park subway stations.
Our studio spans 1600sq ft on the ground level, catering to both stills and video productions.
The entire space is blacked out to provide a versatile range of controlled lighting options and shooting areas.
The standout feature of our studio is the L-shaped Cove wall, measuring 4m high, 5.5m wide, and an impressive 8.5m in length. This makes it the largest available to hire in the West of Scotland.
Notably, Cove One Studios is conveniently located just outside of Glasgow's LEZ (Low Emission Zone), ensuring easy access for your creative projects.
Cove One Studios
Anderson Photographic Ltd, 20a Milnpark Street,
Glasgow, Scotland. G41 1BB (UK)
0141 429 3633

+44 (0) 74 8311 9019
info@andersonphotographic.co.uk
Cove One Studios was built and is run by Anderson Photographic Ltd.